LANDSCAPE
IMAGINARY
Zine making workshops for children
Sunday 22nd May - Cudmore Grove, Mersea Island





A creative workshop with artist Rachel Poulton for children aged 5-11 to explore the landscapes of Cudmore Grove and make a zine inspired by their observations.

The half-day sessions will start with an age appropriate game/participatory discussion, we will talk about the landscape and what it feels like to experience the world around us using all our senses, with an emphasis on looking and looking again.

The inspiring chat is followed by a multi-sensory walk in the surrounding area with a focus on slow looking – taking in the sights, sounds and feelings of the landscape. The children can collect items such as leaves, moss, stones, feathers etc. to remind them of their walk and possibly include in their zine.

The group will then come back together, share their experiences and start making a zine inspired by their walk. The aim is to recreate their walk on the pages of their zine – they might like to write a poem or a walker's guide, draw some pictures, create a map etc. The children are free to use their imagination and creativity in any way that suits them. Pre-made booklets will be provided plus drawing pencils, pens, glue, scissors etc. but feel free to bring your own pencil case along too.

The time is dedicated to asking, exploring, creating and expressing each individual's thoughts and ideas in words and pictures – all inspired by looking, listening, imagining and immersing themselves in the beautiful landscapes at Cudmore Grove.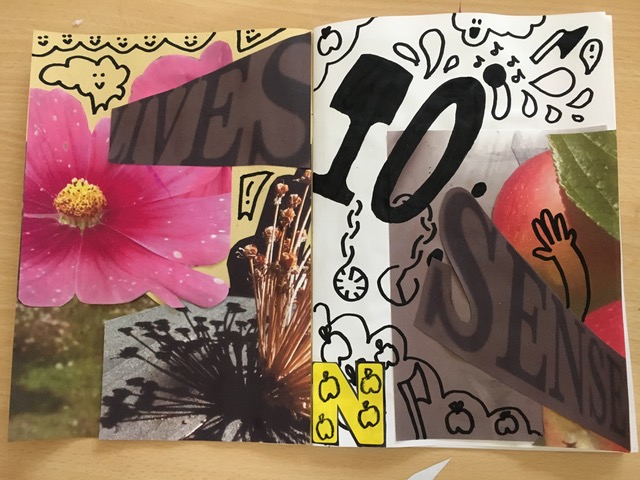 What's a Zine?
A zine is a 'do it yourself' magazine which can involve cut and paste collage, handwritten text, photographs, drawing, visual ideas and original thought. The idea is to create a personal publication that expresses each child's ideas and experience of being in the landscape.

Rachel aims to encourage the children to find new ways of seeing and inspire a sense of wonder, creativity, enthusiasm and independent thinking.





Important Information
What should I bring? Water bottle, warm jumper/coat if it's chilly, sun cream and hat if it's hot, comfy shoes and your imagination!

Please note: Parents or guardians are required to accompany children at all times.

Where to meet: Cudmore Grove Country Park, at the picnic tables near the playground.

Getting here: Cudmore Grove Country Park, Broman's Ln, East Mersea, Colchester CO5 8UE




Workshop facilitator – Rachel Poulton
Rachel is a writer and photographer whose interests lie with our connections to the past and the land. Much of her work examines inner and outer landscapes, myth and reality and spirit of place.
Rachel teaches art and philosophy and is the author of
The Little Book of Philosophy
. She is the founder of Unseen Press
-
a small independent press, publishing limited edition photography and art books, zines and pamphlets. Rachel also runs philosophy, art and zine making workshops in galleries and public spaces around the country.
You can find out more about her work here:
www.rachelpoulton.com
These workshops are being presented as a part of artist Daniel & Clara's Landscape Imaginary exhibition, which is taking place at East Mersea Village Hall on 21st-22nd May. Drop in over the weekend to meet the artist and see the work they have been creating on Mersea Island.
Find out more here!